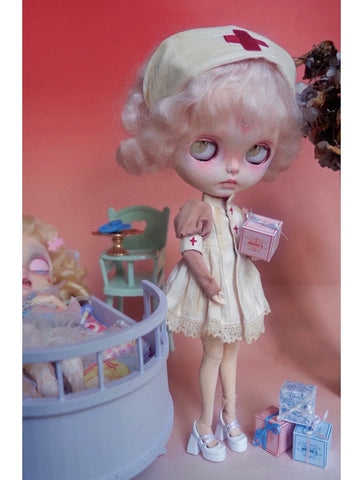 The New Year holidays make us feel excited for the new year and all of the amazing things that are about to happen. It's a time for warmth and comfort, as well as excitement and magic in the air. When you want to give someone a gift, BLYTHE Dolls are the perfect option. You can get them for your friends and family, but don't forget about yourself! It's easy to feel down this time of year, especially when the weather starts to turn. When the unstoppable forces of winter don't let up, remember that a miracle is knocking at your window. All it takes is a few deep breaths and you'll be ready for a new hobby. What is magic? In the Blythe game, you'll be able to help the dolls in their quest to find the perfect world of beauty. When they've found their home, they'll transform it with their special power. They can also share it with those closest to them by giving them a doll. This makes life better for everyone - and that's something we can all get behind! Playing with dolls is a great way to relax and have fun. Through this kind of activity, the two halves of your brain will begin to work together more effectively. It's not surprising that you'll get new ideas or that it'll be easy to figure out things you've struggled with in the past by focusing your creativity on Blythe Dolls.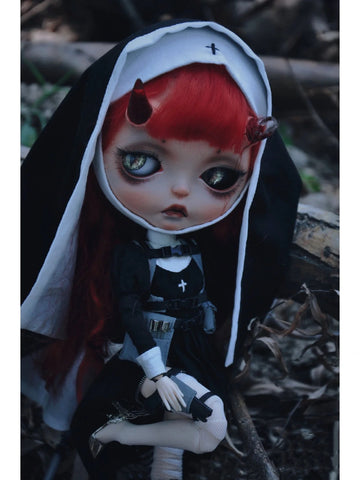 NIRI-HALLWEEN CUSTOM NEO BLYTHE DOLL
Playtime is an important outlet for passion; if something is bothering you, use creativity as a lever to shift your focus to something more pleasant. Dolls are a reflection of ourselves. They're also toys and new family members that live in our homes and provide joy to their creators with love. Each of us chooses what dolls we want to make. Maybe they pick us! When the masters are done making their creations, they say goodbye before releasing them into the world so they can bring happiness to others. With Blythe, you can take your dolls on a walk, arrange beautiful photoshoots, and even write fascinating posts. Your imagination is the limit. A day with Blythe could be anything from a wild party to serendipitously filming someone's trip to see Santa in Lapland. You'll enjoy the story as much as if it were happening to you. We have a new collection of adorable clothes for 2020. Take a look- you're sure to find something you like! New Year's festivities represent a delightful holiday of miracles—not the miracles themselves, but rather anticipation and optimism of them.
Sometimes you feel like what you've wished for will come true in the year ahead. This feeling is what creates the happy excitement of a real holiday. By focusing on the new year or "spirit of the season," we have hope for a brighter future. As you embrace the magic of winter with kindness, modesty, and detachment from your material desires, hard times are forgotten. You learn to turn obstacles into lessons and remember that happy moments don't leave after the holidays—they become an inseparable part of your life. This winter, why not adopt a Blythe doll? They are the perfect gift and they can bring you lots of happiness. Besides this, they help to create beautiful atmospheres and happy smiles on festive days like Christmas. Collecting different things can help us find our purpose in life, and also bring us a lot of joy. Looking at collections brings aesthetic pleasure and gratifying feelings of fondness. Miniature mises-en-scène of elaborate and exotic scenery for our dolls can also add color and character to our homes.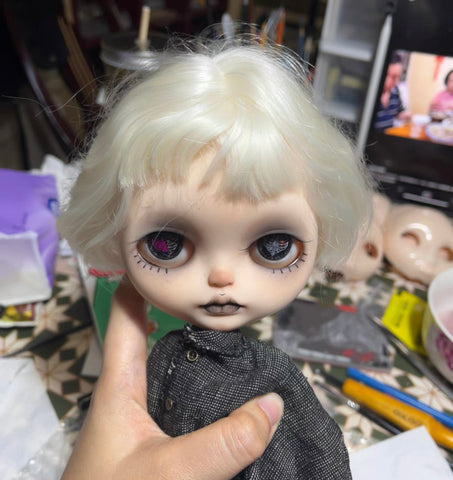 Allow yourself to be whimsical! When you're looking for a creative outlet, purchasing a doll can help to bring out the creator in you. Collecting Blythe Dolls is a unique way to enjoy your favorite hobby. Whether it's something as simple as placing them all in one place or as unique as designing an entire room around them, it doesn't take much effort to be creative. The happy owner of adorable Blythe dolls loves to think about such original ideas as taking pictures of her collection in miniature form, or presenting each doll carefully in a full-scale room setup. It doesn't matter what she does with them—creativity is the name of the game! Sewing and knitting are just a few of the hobbies taken up by Blythe owners because they love making their girls new clothes. It doesn't end there though! You can also find a fantastic collection of BLYTHE DOLL CLOTHES, wardrobe items made of high-quality materials such as wool, shaggy fleece, or cotton. Lastly, we have a fantastic range of original designer DOLL SHOES to choose from. Part of having a meaningful life is collecting personal items. That includes the mini furniture and original interior features that some people create for their doll collections. But even if you don't take your collection to that extreme, your collection will still reflect your personality. By adding this to your life, you'll begin to feel better through interacting with something you've created, and you'll also help yourself learn more about yourself. Each Blythe doll contains within it not only physical beauty and unique traits, but also energy, hopes, and dreams. A doll is like a receptacle of human image. It may be small in size but it still has the capacity to hold an abundant amount of joy, happiness, and creativity from its owner. We love dolls because they bring us joy and peace from the outside world. Observing the soul of your doll is never a regretful thing, because when you look into her eyes she'll give you the care and affection of both a friend and family member. Blythe dolls can be found in people's homes all over the world. Some collect them for games, some for interior décor, others use them as props in photo shoots, and there are also those who simply have a passion for the doll. From their expressive appearance to the care that goes into their creation, Blythe Dolls are captivating and irresistible. With so much detail, they can become a kind of masterpiece that reflects a particular emotion or mood. Every Blythe is just as individual and special as the person who designed them! Give one (or 12) a home to create their own fairytale by getting to know them. In my dreams there is always a lot of time left, and in my life I want to fill every second with diverse hobbies and goals and succeed at every thing I put my mind to. I want to live and feel, communicate and meet new people, share my impressions with them. And so why not turn your dreams into reality? Let's start a new countdown for your new year. You will surely achieve the things you hope for, find new passions and explore creative horizons we haven't touched yet.
We want you to have the best start to your new year!
XOXO~
EDELWEISS