Best Wonder Woman Halloween Costume of 2022

Start dressing like

Diana Prince

, aka Wonder Woman by wearing: a Red Faux Leather Corset, Blue with White Stars Spandex Shorts, Gold Mirror Belt, Wonder Woman Cuffs, and Wonder Woman Logo Gold Foil Sticker. Slip on a pair of Wonder Woman Boots along with a Wonder Woman Wig, Gold Wonder Woman Tiara, and a pair of Red Shell Bead Stud Earrings. With the Lasso of Truth, you'll be ready to take on the worst super villains with its Small Twist Cord.
If you want to dress up as

Wonder Woman

, but don't want to buy a full outfit and if you already have some of the clothes (or can get them easily) then the best way to make you look like her is by buying an outfit online.
Once you have the clothes, accessories, and hairstyle, you're missing one thing- the rest of your friends. Dress up with friends to look like Batman, Superman, Green Lantern, and The Flash!

The Inspiring Story of Wonder Woman
Diana Prince, more commonly known as Wonder Woman, is not someone to cross. This superhero was born on an island full of murdered Amazonian women. She was conceived from the souls of these women, and has a clay mother.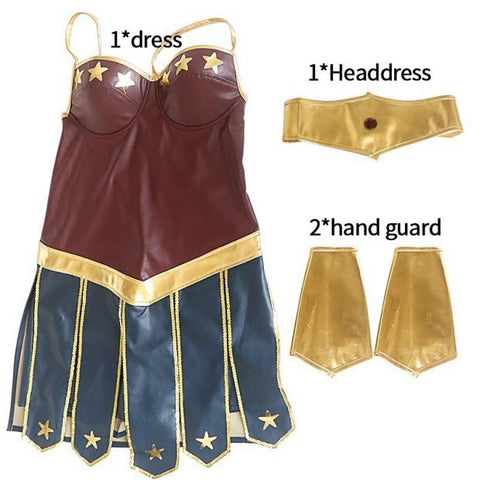 Wonder Woman is a fierce, independent hero that uses her super-human power to help do good in the world and stop corruption! She has superhuman strength, she can fly, heightened speed and agility, and we can't forget about her accessories! Wonder Woman wears bracelets that deflect attacks, and a Lasso of Truth which cannot be broken or cut. When wrapped in the lasso, the prisoner must answer any questions Wonder Woman asks without telling lies. Don't get in the way of Wonder Woman!
xoxo~
edelweiss